Trade Alert: CBAI
Morning Traders,
Hurry up and get CBAI on your level 2 right now!
For those that have been following along with me the last few weeks you clearly remember this trade from mid March.
CBAI was alerted to our lists on March 21st and the stock ran from $.0035 to $.0059 for 68% worth of gains.
What's significant about that? Well, CBAI is in the exact same starting spot and the chart below shows if we break the "pivot point" of $.0042 then our next resistance could be right up there near that $.0059 and $.0064 levels!!
Here is what I want you to know……
The last time CBAI was alerted it had a monster run in early trading. It then retraced around 10am EST and then took off once again as it found support. WATCH FOR THIS, it could provide another nice opportunity for us for additional gains!
As you all know by now, if a stock BREAKS up and makes a higher high on the "second" run up, that's a sign of STRENGTH and could allow for a full day runner.
So let's not waste a lot of time talking about how Cord Blood could be huge in 2013 and beyond, let's focus on RIGHT NOW and right now you need to be watching CBAI because any volume could spark another big time run.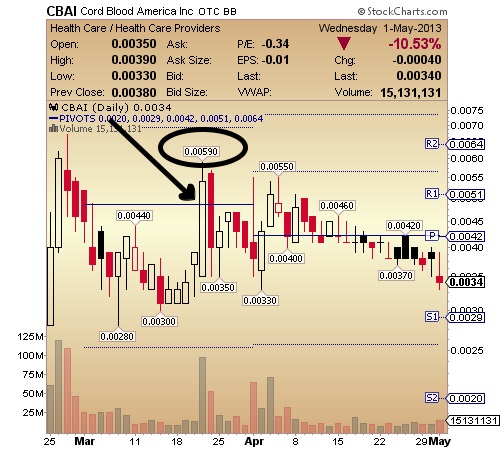 See you on the boards!
This newsletter is a paid advertisement and is neither an offer nor recommendation to buy or sell any security. We hold no investment licenses and are thus neither licensed nor qualified to provide investment advice. The content in this report or email is not provided to any individual with a view toward their individual circumstances. StockRoach.com is wholly owned by BlueWave Advisors LLC. While BlueWave Advisors, has not been compensated for the distribution of this particular email, any future email regarding a specific company will be the result of an advertising and promotional campaign for which BlueWave Advisors, LLC receives compensation. This compensation constitutes a conflict of interest as to our ability to remain objective in our communication regarding the profiled company. Because of this conflict, individuals are strongly encouraged to not use this newsletter as the basis for any investment decision. BWA does not have a position in the covered company.
While all information is believed to be reliable, it is not guaranteed by us to be accurate. Individuals should assume that all information contained in our newsletter is not trustworthy unless verified by their own independent research. Also, because events and circumstances frequently do not occur as expected, there will likely be differences between the any predictions and actual results. Always consult a real licensed investment professional before making any investment decision. Be extremely careful, investing in securities carries a high degree of risk; you may likely lose some or all of the investment.